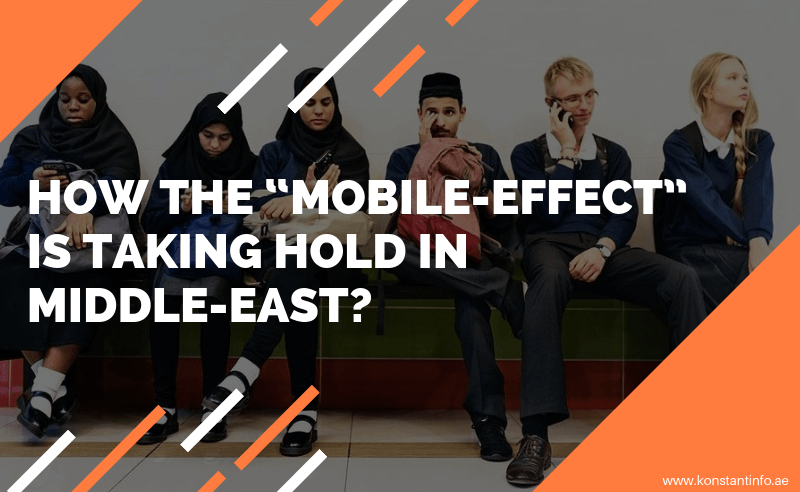 What makes a perfect synergy between offline and online experiences? Will mobile applications be able to provide "just-right" personalized experience that one has while making a choice in retail outlets? AT Kearney, American global management consulting firm, recently reported that Gulf region's e-commerce market is relatively very small and it is not able to contribute more than 0.4 percent to the region's GDP which is a very negligible amount as compared with more mature markets having similar levels of GDP per capita and internet penetration. With the pace at which users are embracing the mobile platforms, there are immense chances of improvement.
Over the past decade, the Middle East (GCC+MENA countries) has seen a steady influx of ex-pats from Western Europe, the Americas, and Asian sub-continent. As this population continues to grow in the region so does the influence of technological advancement from all over the world. With GITEX and more such technological conferences and exhibitions going on a global scale, we wanted to look at just how influential these mobile app innovations have become and how they are impacting app downloads and usage on the region's largest industries. Here is a look-across the GCC Mobile App Market:
Mobile App development companies in UAE and Saudi Arabia cater to following areas on mobile app development:
Web-based apps Platforms.
E-commerce Mobile App Development.
Third party API & Web Integration.
iOS App Development
Android App Development
Content Management Systems (CMS)
UI/UX Mobile Apps Design
Hybrid Application Environments (both Android and Apple devices)
The Richness of Mobile App Market in the Middle East
The current decade has been witness to flourishing online businesses with mobile app development agencies topping the list in the Middle East & North Africa (MENA). Countries like Dubai, Sharjah, Ras Al Khaimah, Ajman, Umm Al Quwain, Al Ain, Khor Fakkan, Jebel Ali, Ruwais, Dhaid, Masdar City, Dibba Al-Hisn, Kalba and many more in UAE, have seen an extreme penetration of high mobile broadband (wireless internet access) and mobile app is dominating the buzz.
According to a recent study on GCC and MENA countries, if people find a good mobile app they do not mind paying for it. There is 80.6% per capita mobile phone penetration and 100% broadband penetration. Besides this, there are almost 41% users in UAE who indulge into paying for the apps (within a month's span). 
According to the GSMA report, 2018, is a deep study over the interests of mobile operators worldwide, including nearly 800 operators with more than 300 companies in the broader mobile ecosystem. This includes handset and device makers, software companies, equipment providers and internet companies, as well as organizations in adjacent industry sectors.
Dubai-based biggest online retailer Souq.com (which was recently purchased by Amazon) saw a major jolt in impulses of online shoppers during the sale season recently. There has been a tremendous growth in mobile app traffic and sales during the holiday season and the major reason that triggered this up was rise in the use of mobile applications (a whopping 10x increase in average daily sales) out of which 40% came from the mobile apps.  
eGovernment in Dubai has been eagerly working towards the development and enhancement of mobile applications and to provide citizens with a smarter choice with the most widely used smartphones. Look for the apps that are most widely used and loved in the Middle East:
Business in Dubai
Dubai mParking
Emirates NBD
Shop Shop Me
The Dubai Mall
Market Trends in Middle East 2018
According to a recent study by Statista,
Total revenue on an average per user (ARPU) currently amounts to US$187.45.
The revenue from retail and online e-commerce market amounts to US$18,583m in 2018
The revenue is expected to rise by 9.1% which will eventually result in a market volume of US$26,372m by 2022
Electronics and Media is the largest market segment and its volume is expected to rise by US$5,608m in 2018.
User penetration is expected to be by 54.6% in 2018 and is expected to hit 58.8% by 2022.
This trend is in no way going to diminish the effect of brick and mortar industries. They will survive in parallel to the online emerging marketplace. The increase in the use of mobile apps will go hand in hand with the development of more number of mobile apps. But the basic and most important question will remain as to whether these apps will be able to accommodate the needs of the consumers, adapt to all the necessary changes in technologies, and how we win them in the digital epoch?
Synopsis
In current times when everything is available at push of a button, it is as well easy for the consumers to switch between technologies, and to make various choices while developing mobile applications. To make the consumer app experience a memorable one, it is important to check whether all the channels are integrated. Being present across all channels does not necessarily imply that the business has to be available to the consumers as and when they wish to engage with you.
It is necessary to integrate all channels, to want your consumers to shop in one channel, collect in another, and even better, can he return in a third channel, with a unified view of your inventory. Businesses that succeed in providing the best customer experience are the ones that have succeeded in unifying across all touch points.
Does your business depend on the holiday season to boost sales? Are there any trends we missed that are important for your industry? Wish to create an app to suit your business needs? Get in touch with us.
YOU MAY ALSO LIKE
Extending Web Development Trends in 2020

Swift vs. Objective-C: Which Language is Preferable for iOS Apps
About Author
Dedicated to keep you updated in the rapidly evolving domain of technologies, entrepreneurship, and their collective impact on the local business ecosystem with our empowering organizational ideas, board announcements, key information and insightful resources that are valuable to you as an aspiring business and an avid audience.
Let's create something together!
Submit your details below and we will get in touch soon.