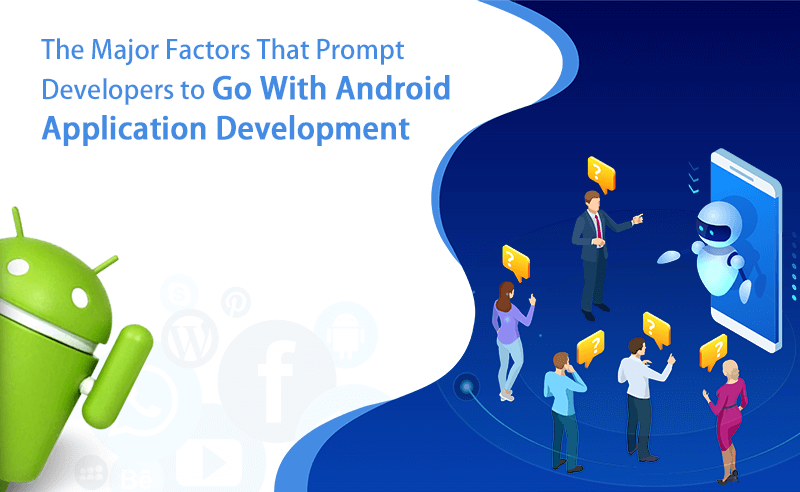 Almost everyone owns a smartphone these days. And with easier access to the internet and supporting infrastructure, it is becoming ever more possible to acquire mobile technology and use it for ranging needs for work and home. Now, in today's scenario, when technology is accessible to many, most of the people who use smart phones belong to a medium and below average income group. This user group form almost 65% of total users considering global averages. And they predominantly go with flexible, affordable and value-for-money options when it comes to choose an operating system. Which is unanimously catered by Android and the open source app vertical finds the strong first place in the vertical. So, if you have a business and you are looking to target and reach the most of people (spending least amount per user), there's no better option than Android app development. Well, that's not all. You have many more reasons to go with Android beyond the preliminary cost-benefit factors and here are some of the most prominent ones:
Freedom of collaboration:
Going with Android gives you enough choice to fetch for collaborative help for coding as you can access development resources and ideas from a huge open developer community. And all that without having to sign strict NDAs and complicated terms!
Distribution model:
Android is a widespread platform and is powered by the open distribution model set up by Google. This allows developers to reach and touch base with their users through different distribution channels. Therefore, top app development companies across the world choose to go with Android to aim at larger distribution layout.
App development process:
Putting up with Android is easier as the process followed for app development is far lenient and swift as compared to that of iOS or any other platform. And this makes it a great choice to go with for developers.
Zero setup cost:
It costs you almost nothing to get started with Android app development. As the development tools and references required to build an Android app are mostly available openly for free. This makes it save you a lot of cost that goes into establishment and initiation.
Java Programming:
Android apps are built on Java. This allows developers to put up with extensive programming capabilities and choices to build feature-rich and innovative apps that are all-equipped with finest and latest of technology support. This lets you refer to and utilize technologies like CDMA, Wi-Fi, GSM, EV-DO, EDGE, UMTS and Bluetooth to full potential and build highly resourceful apps for Android devices.
Freedom of innovation:
The way Android allows you to explore innovative possibilities for your app, no other operating system does. This is because it is based on Linux and different open source libraries that allow developers to freely access and explore various ideas and resources that help them innovate to a greater extent.
Multi-platform support:
As Android is an open platform it works with different systems and supports various device types and display formats. This increases the scope of compliance and application with various property parameters and integration schemes and allows Android app developers to build solutions for different systems.
Final Words
All these factors together make Android an app development a platform that serves the broadest perspective of utility and benefits of most user groups. This makes it highly lucrative and valuable for businesses and technologists to go with Android, as they are able to reach most number of people by assigning their presence across the widest range of interfacing options and device categories.

YOU MAY ALSO LIKE
Extending Web Development Trends in 2020

Swift vs. Objective-C: Which Language is Preferable for iOS Apps
About Author
Dedicated to keep you updated in the rapidly evolving domain of technologies, entrepreneurship, and their collective impact on the local business ecosystem with our empowering organizational ideas, board announcements, key information and insightful resources that are valuable to you as an aspiring business and an avid audience.
Let's create something together!
Submit your details below and we will get in touch soon.