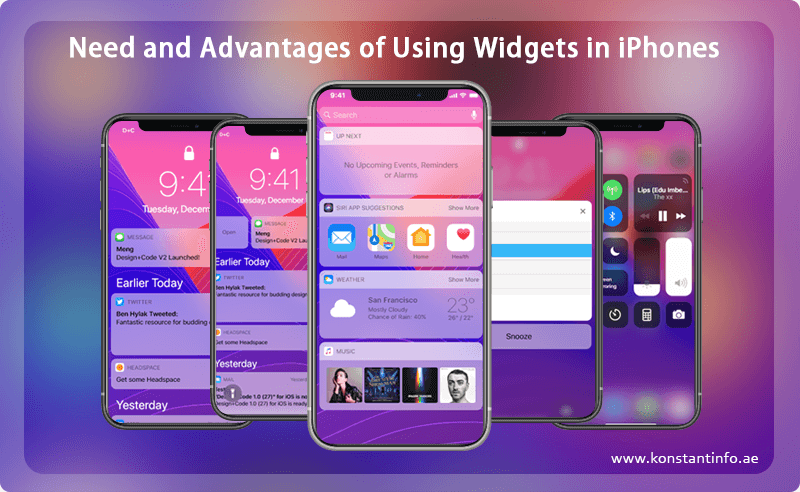 Widgets are a great way to quickly view information and receive updates from your favorite apps or websites that look most important. Widgets were initially a part of Notification Centre but they got listed within "Today's View" or "Apple View" which can be accessed when a right swipe is done on the lock screen or the first page of the home screen. These can be added, removed, rearranged at any point in time. Users can put as many widgets as they want, customize the ordering, quickly access information, execute simple tasks, get notified instantly.
Why use widgets?
Several applications allow sending emails, checking photos and other common tasks without ever unlocking the phone. It is easy to edit the order of the widgets in which they appear from a handy button at the bottom of the screen. Some apps let expanding the widget to get more information.
Apple has some decent widgets but it also allows a user to install third-party widgets from the App Store like weather, music, SIRI App suggestions like Twitter, Safari, Pokemon Go or any wallet application.
Wikipedia widget can help find the last article that users were reading where they left off. Shazam's widget prevents the need for the users to login into the app to figure out what song is playing.
Widgets like Kitchen Stories and New York Times Food helps figure out what to make for dinner and also provides an insight into day's featured recipes. Widgets like ESPN, Star Sports, MLB At Bat puts all the favorite teams and their scores a swipe away.
How to add or remove widgets to Today's View within iOS apps?
Adding Widgets
Widgets can be added, removed or reordered to arrange favorite ones at the top.
Swipe right over your iPhone's home-screen or lock-screen until you get 'Today View'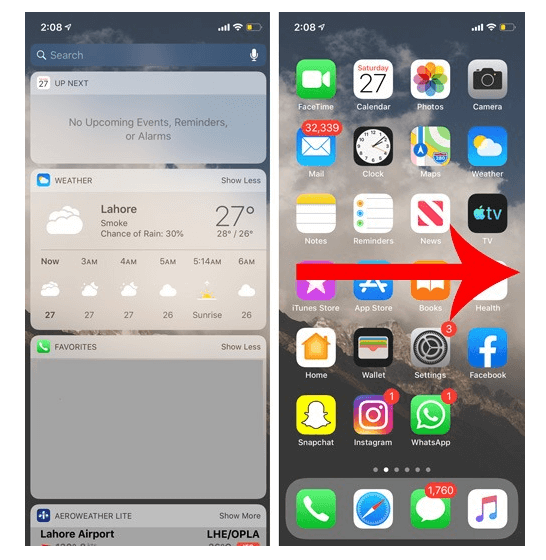 (Image Source: maketecheasier.com
Scroll down to bottom and edit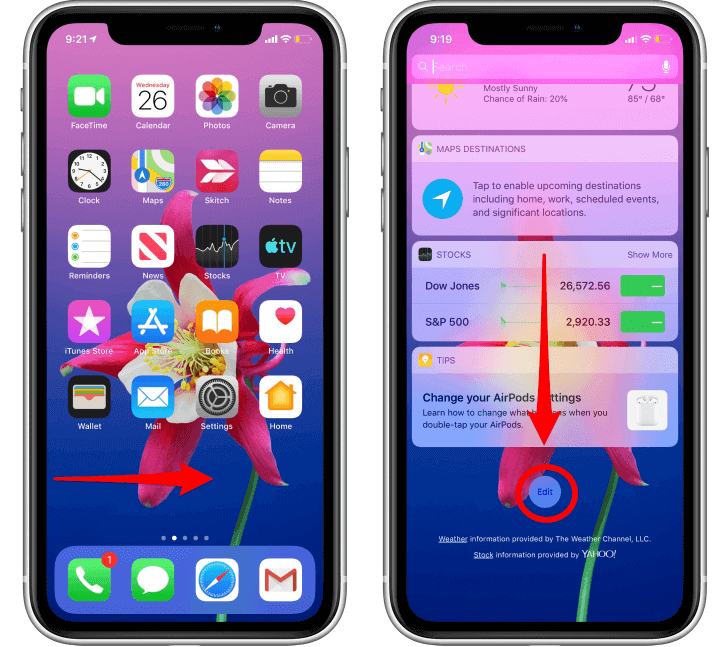 (Image Source: techradar.com)
Tap "+" in the green circle to add a widget or tap "-" in the green circle to remove a widget.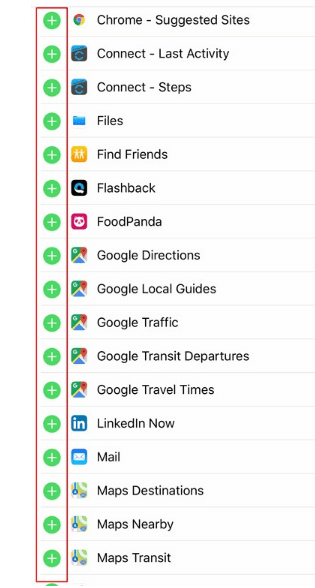 (Image Source: maketecheasier.com)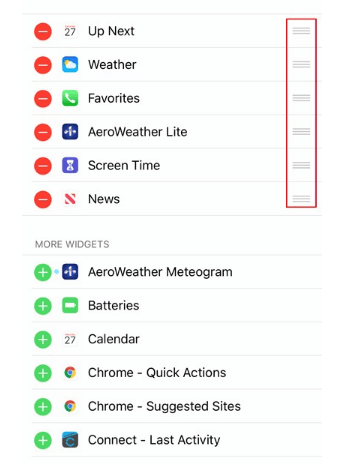 (Image Source: maketecheasier.com)
Tap 'Done' at the top right corner of the iPhone screen to save the changes.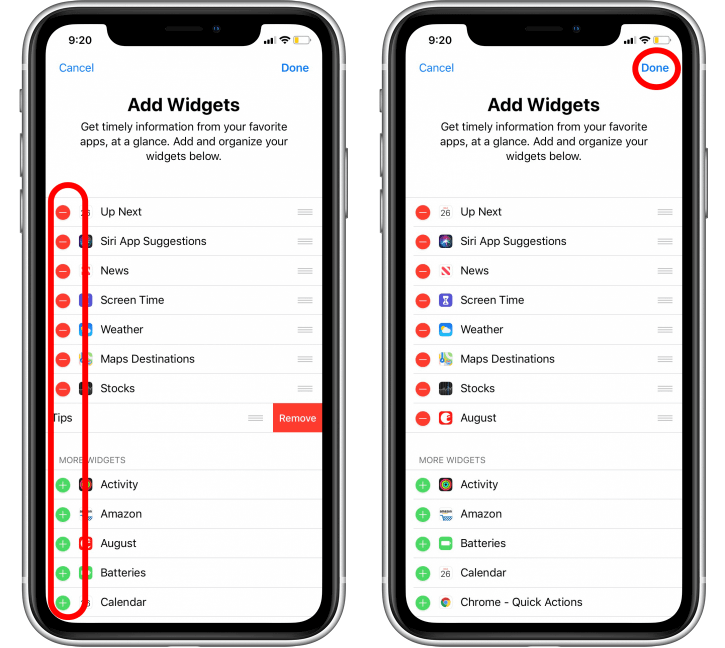 Touch and hold three lines next to the app and drag them in the order that is required.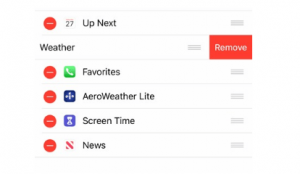 (Image Source: maketecheasier.com
Batteries widget requires the users to connect the iOS device to another Bluetooth device or accessory that supports the same feature.
Deleting Widgets
A widget screen can be disabled by going to settings > Touch ID and Passcode, scroll down then uncheck Today View and Notifications View.
Need to Develop iPhone Widgets Apps
Apple's default offerings are quite extensive, but in any case, users are always free to download widgets of their choice from the App Store. Check how widgets can be helpful for developers and users:
These allow users to view important, updated information quickly as well as allows them to carry tasks quickly.
Widgets can be added to in-app purchases and can thus help in monetization. They are usually free while widget for lock screen is a paid feature.
Widgets also help in reminding users about your app's existence.
Widgets help iOS developers to create a glanceable experience. These help in getting brief updates and perform very simple tasks that helps just in time to deliver the right amount of information and interactivity.
Widgets help in showing content quickly.
These help in avoiding the extension of content to the edges of a widget.
Widgets must always be adaptable – must be able to align according to the screen size, width and height of content, images, must be able to collapse and expand ideally according to the screen.
System font must be in grey or black in general.
Background of the widget must not be customized for various reasons as it is designed for consistency and legibility.
Widgets make people let do more work.
These lets users know the value of authentication.
Widgets must be picked according to the quick action menu. If the app has multiple widgets, the one that appears when someone applies pressure to app icon on the home screen using 3D Touch must be chosen.
App Extensions Available With iOS 8 and Above
App Widgets are also known as app extensions that allow users and developers to extend custom functionality and content beyond their apps and makes it available to users while they're interacting with other apps or the system. These are always curated for a special purpose. Few of the iPhone widget app extensions available with iOS 10:
Launcher
Calendar and Reminders
Shortcuts
Weather
Google Maps
WiFi Widget
Shazam
Copied
Drafts 5
ESPN
Share
Photo Editing
File Provider
Document Provider
Audio
Today
Custom Keyboard
Actions
Finder Sync
Dropbox widget
Foursquare's Swarm widget
Evernote
NYT Now
Todoist
Weather Underground
Workflow
Favorites
Wunderlist and many more.
Cost of iOS App Development
Notifications can now be actioned directly on the lock screen. Widgets get automatically installed in iPhone as the users install the app from the app store, in case a widget is available for that app. Moreover, the appearance of widgets on the app depends upon making use of different methods. The choice of widgets is directly proportional to the apps on the iPhone. In-app purchases, features, widgets, advertisements, platform, hours in development, time to market/production, version updates – all play a vital role in deciding the cost of the app.
Besides this design (template, individual, premium),
number of pages (1 – 255+ (approximately)),
version support (basic or advanced),
database (MongoDB, PostgreSQL, MySQL, others),
ERP integrations (Oracle, Netsuite, other),
CRM integrations (Zoho, Salesforce, others),
Mobile API (NodeJS, Ruby, others),
CRM Integrations (Zoho, Salesforce, others),
Mobile API (NodeJS, Ruby, others),
Content Management System (Angular, Ruby, Backbone, etc.),
Analytics (Google Analytics, mixpanel, etc.),
Mobile Payments (Paypal, Stripe, bitcoin, etc.),
e-commerce Integrations (None, basic, advanced, enterprise, in-app coupons, loyalty coupons),
users (accounts, email login, social login, privacy settings, activity feed, feedback and group calls)
+ some extra features like audio, camera, 3rd party API's, dashbard, Tasklist, search, rating system, chat, gallery, QR code, calendar, social sharing, push notifications, Ads, Multilingual support, data collection, geo location, offline capabilities, activity tracking, augmented reality, virtual reality, data export, maps, backups.
Thus, skipping all the factors in the cost-breakdown, a median price to create an app (iOS or Android) comes around $1,71,450 (according to a survey by Clutch, a globally recognized research firm) as the typical cost ranges between $1,00,000 - $5,00,000 for medium to large apps, cost of small iOS apps can come around $10,000 - $50,000 (leaving a lot to scope, type and size of business)
Jumping to Conclusion
Widgets are an extension to the apps in iOS app development that displays a small amount of timely, useful information or app-specific functionality. 'News' widgets show top headlines. The 'calendar' shows daily events and what's up next. 'Notes' lets users preview recent notes, quickly create new notes, reminders, photos, and drawings. Users can add the same contact a few times to accomplish a different task. They can add them once to call them and once to send them a message. The widget for the contact list shows all the favorites after users add them using the Phone app.
Widgets can be customized by making use of buttons, text, layouts, images and many different types of customizations. Widgets on the iPhone must be designed according to the needs of the users, the ones that they wish to see on their search screen.
Konstant has upheld the highest standards in mobile app development. Get to know about hassle-free features, time-saving options for iOS app development from our experts and leave distinctive footprints for clients!
YOU MAY ALSO LIKE
Extending Web Development Trends in 2020

Swift vs. Objective-C: Which Language is Preferable for iOS Apps
About Author
Dedicated to keep you updated in the rapidly evolving domain of technologies, entrepreneurship, and their collective impact on the local business ecosystem with our empowering organizational ideas, board announcements, key information and insightful resources that are valuable to you as an aspiring business and an avid audience.
Let's create something together!
Submit your details below and we will get in touch soon.