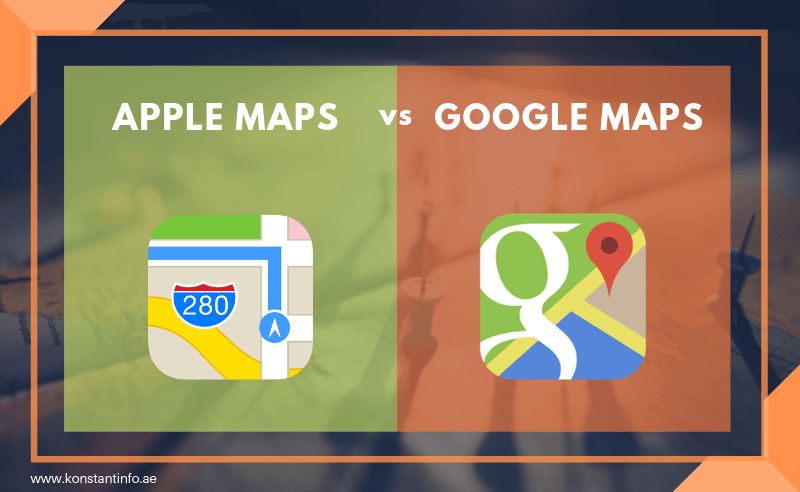 Google Maps was the default mapping program for iOS users until Apple rolled out its navigation app in 2012. It wasn't a smooth ride for Apple at all with a lot of inaccuracies and errors bugging the app. Since then, Apple has been working incessantly to make the app functional and efficient by planning a complete overhaul, adding new features and correcting the errors.
So, which app fares better in the current scenario – Improved Apple Maps vs. Google maps, or rather iOS maps Vs Google Maps? Let's decide this based on some of the key differences that can influence a user's choice of map service.
User Interface and Navigation
Google displays fewer icons as you open the app but offers more functionality on the inner screens like sound, crash report, mobile speed camera, and quick search. It offers map types including Satellite and Terrain maps along with map details like transport, traffic, and cycling options, and lets you explore nearby food, shopping, and other venues, and allows you to set your commute beforehand. Google Maps via its advanced algorithms alert users about the traffic flow, accidents, road closures, and adjust the arrival routes and times accordingly. Red sections indicate heavy traffic, yellow indicates moderate traffic while blue shows no or little traffic. The entire map sections can be downloaded offline.
Apple Maps interface is cleaner and simpler with more default locations as compared to Google maps. Apple also estimates the arrival time based on the current traffic and offers a search bar at the bottom to search for a specific location. The map settings can also be changed from this screen - Map, Satellite or Transit. Additional options are available, but the navigation is trickier. Like Google, Apple maps also display the current location and has a night-time mode, but also has an added feature- integration with iOS. With Apple, it's easy to simply ask Siri where to go and Siri will launch the app. On the flipside, Apple maps cannot be downloaded offline.
Overall, Google stands out on bicycle maps, offline accessibility, and easy navigation. 
Platforms and Data Usage
After being removed as a default installation on Apple products, Google Maps became available in the App store as a free download. Google Maps is currently available on almost every device - dedicated apps for iOS and Android, on Apple, watch, and on the original browser-based version of the web closing the iPhone vs Google Maps divide. Additionally, Google Maps also have an atlas companion known as Google Earth. Despite these benefits, Google Maps are heavy on your device's battery and data usage as Google Maps does not run in the background and even though Google maps allows you to download maps for offline usage, each map can be massive in size.
Apple Maps, unlike Google, are limited to iPhone, iPad, Apple Watch and Mac (10.11 EI Captain or later) with no browser version availability. However, Apple maps are more efficient when it comes to data usage as they also use vector graphics.
But overall, Google Maps tops the list with its availability on both Android and iOS platforms, its companion Google Earth, and its map download feature.  
Mapping Capabilities
Google invested a huge sum to enhance its mapping capabilities. Google dispatched a fleet of Street View cars to drive more than seven million miles to capture 360-degree views and has a better small city mapping data as compared to Apple. The app also offers detailed 3D images for highly populated areas with major tourist attractions in addition to offering a computer-rendered model to the users to provide them a context for the route. Google also provides information about the business opening and closing times with business details, photos, and user-generated reviews.
Apple, on the other hand, relied on the third-party data providers like TomTom and OpenStreetMap for the map data but is now working to gather first-hand data. A fleet of Apple Maps vans is floating on US roads to collect data and images to offer 3D street navigation in high resolution. Also, Apple too offers business details but less often than Google and includes third-party app ratings. One of the standout features of Apple maps is its Flyover mode. It lets users explore densely populated urban centers in 3D landscape and offers City Tours that guide users around various landmarks in a city which is absent in Google. It appears that eventually, Apple Maps is likely to come at par with Google Maps, but as of now, it still needs improvement especially in terms of small city mapping.
Privacy
The business models of Google and Apple differ largely. Being a data company, Google earns most of its profits from advertising and analytics. Also, Google uses the data obtained from its free to use services to makes money from the third parties. Google's location sharing is one of the most controversial features. When it comes to how much user data needs to be collected, how the data is stored, when the app will be updated and what it will do with the data, Google has its own set of policies.
Apple, on the other hand, is a hardware company that makes money primarily by selling hardware and hence, much of the data it collects resides on the device. The data Apple collects uses non-identifying markers that change as often as the user re-launches the app. Moreover, the data that is shared with third parties is only a bare minimum level of data that is required for the services they offer. Overall, in terms of data privacy, Apple Maps is the preferred choice.
Conclusion
To sum up, Google Maps is the leader when it comes to mapping capabilities, accuracy, availability on different platforms, multi-route planning and ease of navigation, however, privacy is still a big challenge. Moreover, Google Maps is heavy for your device's battery and data usage. Apple Maps, on the other hand, has the most pleasant look, understands user's privacy concerns, and is working hard to come at par with Google maps. In its iOS 10 and 11 updates, Apple has introduced some new functional features like travel notification for events you saved in your calendar, lane-guidance, indoor maps for select location, speed limits for the roads and a flyover mode. So, talking about Apple Maps vs Google Maps, Apple may surpass Google Maps sometime in the near future, but as of now, Google Maps is the winner.
Want to build a mobile app with Geolocation? Reach us at [email protected]   
YOU MAY ALSO LIKE
Extending Web Development Trends in 2020

Swift vs. Objective-C: Which Language is Preferable for iOS Apps
About Author
Dedicated to keep you updated in the rapidly evolving domain of technologies, entrepreneurship, and their collective impact on the local business ecosystem with our empowering organizational ideas, board announcements, key information and insightful resources that are valuable to you as an aspiring business and an avid audience.
Let's create something together!
Submit your details below and we will get in touch soon.